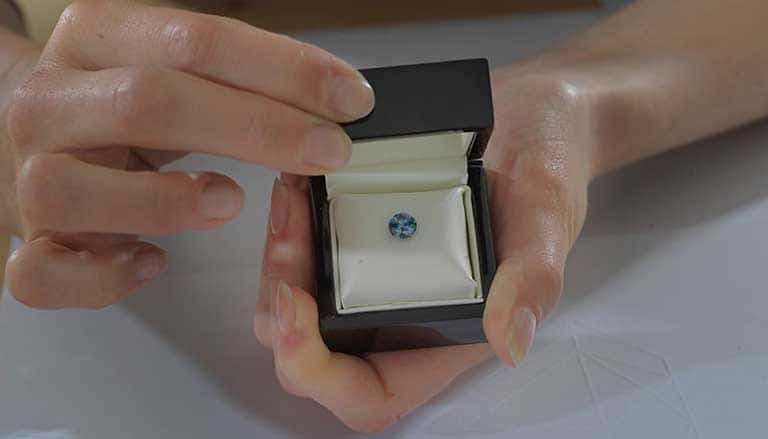 After the passing of a beloved family member, the family faces many decisions. Foremost of which is whether to bury or cremate their loved one. A diamond burial is a beautiful way to remember your loved one and can be created using cremation ashes or hair of the deceased. Thus the memorial diamond can be a cherished keepsake with either burial or cremation.
Here's how to order your memorial diamond:
1. Find an ALGORDANZA Partner.
We work closely with funeral homes across the US and in over 30 countries internationally. Contact us if there is not a funeral home partner in your area. We can help you find a partner or we will assist you from our ALGORDANZA US location.
We consult at:
our Houston office
funeral home
over the phone
in your home
even through video conference!
2. Select your Memorial Diamond
Choose a cut or a rough diamond. The rough diamond is polished, yet not augmented from its natural shape. We offer a wide selection of cuts and sizes of memorial diamonds to choose from.
3. Complete the Order Form
4. Setup a payment plan or make a 50% deposit with the balance due at delivery.
5. Ship Cremated Remains
Funeral Home – Speak with the funeral director about your wishes for an ALGORDANZA Memorial Diamond. We work closely with the funeral home that will arrange the funeral service and cremation. We organize the shipment of the cremated remains directly from the funeral home, or your residence, to our ALGORDANZA US facility.
Individual – If you are not working with a funeral home ship one pound of cremated remains or ten grams of hair, or a combination of cremated remains and hair directly to our ALGORDANZA US facility via USPS Priority Express. Contact us to receive your shipping kit, which includes everything you need to ship cremated remains to our facility.
6. Determine disposition of excess cremated remains
The average adult produces five to ten pounds of cremated ashes during cremation. A minimum of one pound of cremated remains or ten grams of hair is required in order to create one or more memorial diamonds.
ALGORDANZA offers several options regarding the disposition of excess cremated remains:
ALGORDANZA transforms the entire amount of ashes if no additional burial is desired.
Excess remains are returned to the funeral home or remitter for an urn interment.
Family members can personally pick up unused cremated remains in Switzerland.
Bury the unused cremated remains in the Swiss Alps through ALGORDANZA in Switzerland.
7. Get Updates on Your Memorial Diamond Transformation
During the creation of your cremation diamond, you will be updated in each step of the process. Our timing is currently estimated at four to seven months from the time the cremated remains are received in our US facility, to the moment when you have your personal memorial diamond delivered into your hands.
8. Receive Your Memorial Diamond
Your ALGORDANZA Memorial Diamond is laid in a noble diamond casket along with the ALGORDANZA certificate of authentication and guarantee. You can pick up your memorial diamond in Switzerland or have it delivered to you.
We encourage and welcome you to visit our US facility and our laboratory in Switzerland to see how your memorial diamond is made.